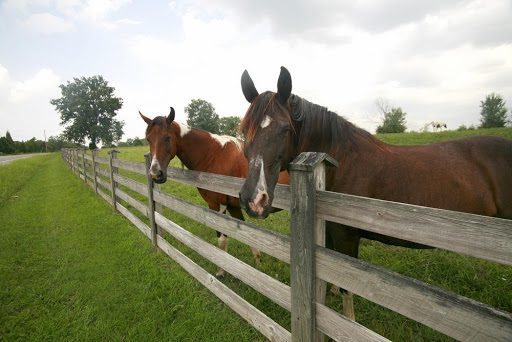 Building a fence is one of the most important tasks when rearing farm horses. A good fence is needed to keep horses confined in one space and prevent them from wandering into a neighbour's gardens or onto the road. 
However, with such vast options of fencing material, it can become quite difficult to find the fence that will be perfect for your horses.
To help you make the best decision, this post will guide you through the fencing process.
  Planning your fence
A good, strong fence is the result of proper planning. Before even putting the first post in the ground, map out all fence lines, locate lanes, gates, and corners and mark the future location of all these elements.
Figure out if you're going to install a temporary fence or a permanent one. If you're opting for a temporary fence, you'll need to purchase material that is light, and durable such as bare wire or braided wire. These materials can be electrified to prevent horses from getting tangled in or tear down the fence.
Temporary fences are easy to install, move or remove. This is great if you decide to broaden the fence or build a stronger one.
A permanent fence is best suited for long-term use and can be made from woven wire, electric, vinyl, wooden rails, or PVC rails. Permanent fencing can be also be electrified.
This type of fencing is stronger and makes it harder for your horses to escape the enclosure. It also reduces the chance for wildlife to enter the contained area. In addition, a well-built permanent fence can withstand almost all weather conditions but requires regular maintenance.
  Selecting the right fence type
The next step is to identify the fence that is right for you.  You might also want to obtain a fence contractor for this step. Fences come in a wide variety, but here are the most commonly used:  
Wooden horse fences remain the most aesthetically pleasing of all horse fences. It is strong enough to keep horses in the enclosure but requires regular maintenance. 
Modern electric fences are offered in PVC, coated wire, mesh, and braid. This type of fencing is designed to create a psychological and physical barrier. When horses touch the fence, they will receive an electric shock. 
These are strong horse fences. These fences prevent injury well and require almost no maintenance.
Flexible Fence with High-Tensile Wire
These are highly popular horse fences and are relatively inexpensive. With this type, the choice for horse owners is virtually limitless. High tensile wire fencing requires little maintenance.
Wire Mesh fencing is dubbed the best fencing for horses. They are made of a highly visible galvanized wire that is rust resistant. Even, the Wire Mesh requires low maintenance and keeps horses in the paddock while keeping other animals out. 
Are made of a single (barbed wire) or several strands (barbed wire) of a galvanized steel wire with two or four barbs. Wire fences are inexpensive but are the most dangerous out of all the types of fencing. They can easily cut deep into a horse's skin. 
Make sure that the fence that you choose can contain the horses, is aesthetically pleasing, can provide safety, is not too expensive, and is low in maintenance.
  Installing the fence
Regardless of size, material and horse count, when installing your horse fence there are a few steps that you should follow: 
Scout out the pasture location and lay out the fence lines carefully. Avoid stony areas, rough terrain, and steep climbs when laying out the fence's path. 
The setting end, corner, and gate post brace 
Proper installation includes setting end, corner, and gate post braces. The concrete footings for the upright corner and end posts should be bell-shaped. 
Once you've established the fence lines and set the corner and gate post braces, it's time to install the posts. One crucial part of installing the post is to make sure the posts are properly spaced apart.
After the posts are in the ground, it is time to attach the fencing material (whether board, electric, mesh wire, or otherwise) to the installed post. 
  Ongoing maintenance
Fences need to be inspected on a regular basis – regardless of the type of fence you've chosen. Wood and wire fences, for example, tend to loose naturally with time and temperature changes. 
For the other types of fences, check your warranty to stay up to date with your fence's maintenance.
Conclusion
Researching your options and making an informed decision is the first step to building a fence that is perfect for your farm horses. No matter what type of fence you choose, Building a horse fence will require time and effort.  But with the information presented in this article, you'll be well on your way to your perfect fence.
Author Bio
Sistine Capoy works as a content specialist in Horse Fence Direct and a pet owner.