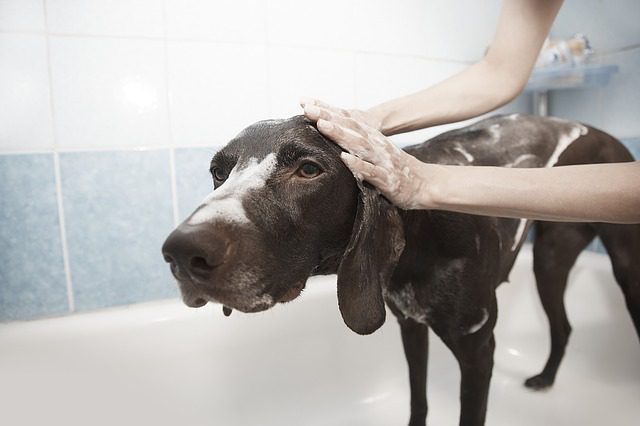 Until you get used to it, grooming your dog can feel like a daunting process where mistakes can often happen, you might not even realize this and think that its a piece of cake to begin with. Be assured though that until you do get used to it, mistakes can always happen, and most are easy to correct and won't cause too many problems for your dog. Grooming your dog is a learning process, and as with all learning Our top advice be patient! it's the key to grooming your dog
It can take time and patience to get it right, don't expect to excel straight off, you could be setting yourself up for a fall! Your dog may have numerous mats and tangles in their coat\ that you'll be faced with. Always start by trying to brush out the tangles with a normal slicker brush. If this fails then you should move to a de-matting brush, if you don't have one or this does not work then move to scissors. Unpick the mat and break it into smaller sections, you'll then be more able to brush it out. Always hold the mat at the bottom and work away from the skin. If you're using brushes that are slicker brushes, there is a tendency to brush harder than is necessary, particularly with tough and tangled coats.
Any red scratch marks are indicative that you have brushed too hard, stop immediately if this is the case so as to prevent further damage and irritation to the skin. Give the skin a few hours and then the irritation should dissipate, there are skin and paw creams out there that can help with this. If however the irritation has not died down after a few hours, and scratch marks are still visible then it is advised that you seek veterinary assistance.
Let's move on to dog grooming clippers, you should always make sure that you know the cutting length for your breed of dog, cut too short and you will again see a visible rash or burn. The dog will be irritated, and this will cause them to scratch, making things worse. A skin cream will of course also help to soothe the skin in this situation. This sort of wound should heal between a day to two days, again veterinary assistance should be sought if this is not the case. Grooming scissors. and clippers can be perilous tools, and small cuts are commonplace, even with experience. It is important not to panic, often it will simply be a tiny nick, but take a good look to survey the damage, apply pressure to stop the bleeding. If you can't stop the bleeding, the cut may be too deep and will need to be looked at by a vet, if you're unsure, then seek veterinary assistance.
You will be more familiar with the routine of grooming your dog
As you become more familiar with the routine of grooming your dog, the confidence will come and what started as a tentative chore, can soon become a relaxing and pleasurable experience for both you and your pet.
Dog Grooming Tools and Equipment.
Depending on what breed of dog you have it will all depend on what tools and equipment you will need to complete a successful groom, some dogs you would use clippers on and others you would not take for instance a smooth haired Jack Russell you can use a curry brush to removed the dead hair this will help the shredding process and lets say its always best to catch it in a brush rather than spread out over the house. I do find this the best way to avoid a house full of dog hair, they are made of rubber and come in all shapes and sizes.
Now if you have said a Yorkshire terrier and their hairs doesn't shred it just keeps growing and growing well you will need to get some dog clippers there are so many varieties you can choose from but I would suggest spending a little more on them as dog clippers that are poorly made and cheaply designed won't work or will just drag at your dogs fur and skin which isn't nice for them.