When it comes to our beloved animals we all want the best healthy dog food possible. We want our dogs to have the very best! And why not, we love them like our children. We want to give them the best possible start in life. We know from expersince that the standard supermaket dog food isn't up to a good standard. Its all about bulk buying cheap food for a profit.
I am yet to walk into a supermarket or my local shop and see any good products on the shelves. Could it be that the supermarkets just don't' make enough money on them or is it that we are still in the mindset that its just a dog and feed them whatever?
Some of the supermarket tins of dog food have so many bad ingredients, some of them are full of cheap fillers just to make the food solid for consumption.
Bad Ingredients found in dog food
Corn and wheat gluten.
Meat and grain meals and by-products.
BHA (Butylated Hydroxyanisole)
BHT (Butylated Hydroxytoluene)
Ethoxyquin.
Food Dyes (Blue 2, Red 40, Yellow 5 and 6, 4-MIE)
PG (Propylene Glycol)
Rendered fat.
Not just the dog food also the dog treats are actually very damaging to your dog's health. Supermarkets often bulk buy them from China. Take Jerky for instance which can cause kidney damage.
After reading the back of several tins in the supermarket I found that Chappie was the best of the bad bunch. It's developed from Vets which obviously trusted more than a profit only based company. We at animal ways gave this to our dog when in times of need especially when we were just getting into the benefits of decent dog food. Its also helped with his pancreatitis. It does have a bit of food dye in but not much. Obviously only in desperate times, we would give him this. like waiting for an order to be delivered, or was out of town and forgot the dog food, if we didn't have enough money for the expensive food. Let's face it good food isn't cheap but in times of need and lack of funds, we would recommend Chappie.
Chappie a long-established brand
It's a very old brand established in the 1930s. Chappie has changed over the years to more of a basic healthier option for your dogs. So a thumbs up to them! I will put a link to it on Amazon. But obviously, you can get it in the shops.
Search for Chappie on Amazon
Let's get to the point of the article!
Sorry, we wuffled on a bit then!
I have been doing the usual research and found that the brand Pooch and Mutt have some pretty special dog food products. Healthy and free from bad ingredients. They really do have your dogs best interests at heart.
Pooch and Mutt A great British Company, the products are made and developed in Great Britain. They have lots of different types of dog food. I am yet to find anything to pick on them with.
Dog food products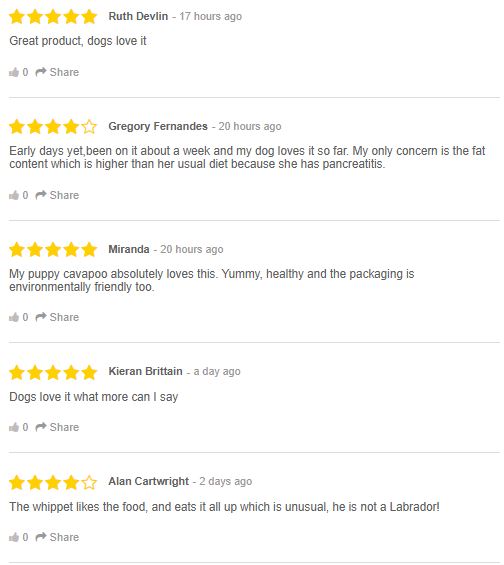 They put pet health before profits, this is music to my ears!
Dog food benefits
Environmentally friendly packaging
Grain-free
Junk-free
Special diet requirements
A fantastic company with a beautiful background on how it started. Pooch & Mutt was founded in 2007 by Guy Blaskey. He was on a mission and I think he has done extremely well. So we thank him for looking out for our pets.
Visit Pooch and Mutt and discover for yourself the benefits to your dog, they have a brilliant customer support team so grab them and ask questions.