The idea of losing a limb for most of us is like, well…losing a limb. It's a big, devastating deal thinking about how we would get around, work, cook, clean, and have fun. Sure, routines may need to be adjusted but life does resume. And those who have suffered the loss of a limb have proven time and again how to live life to the full.
When it comes to the family dog, the same still applies. A three-legged dog can and will have just as much fun as they had before their operation – it just might take a bit of getting used to. They also don't have cooking to worry about! If your vet has recommended amputation, it's most likely your best friend will be fine.
With a tri-paw dog of our own – Winnie, a Staffordshire Bull Terrier from Leicester – we can say that having her front right leg amputated was the best decision. For eight months we tried everything to fix the mysterious pain that eventually became excruciating for her. In the two months before undergoing the operation, she had resorted to getting around on three legs due to the pain. Vets believed it to be arthritis and we had for far too long projected our own fears about amputation onto Winnie. That leg had to go.
Greeting your newly tripaw'd pup
It can be very distressing for owners to see their dog for the first time with three legs.
This won't be a decision you've taken lightly so you'll understand the gravity of amputation. But, you may not be expecting such a large scar. Just seeing them with an area of shaven fur may be enough to bring a tear to your eye. And, your pup's new look may take a bit of getting used to.
The first time we saw Winnie was in the vet's office. After calling her name a few times she realised we were there for her. She slowly hopped towards us but it was clear she was not our usual Winnie.
Your dog may still be disorientated from the anaesthetic. They will not be themselves. They will be wobbly (due to the lack of a leg of course, but also from the enormity of their operation). They may be scared. They may not greet you as happy as you expect them to.
Get down on their level. Sit down if you have to. Open your arms wide and keep talking to them as they come towards you. Make them feel as at home as possible in that room they find so daunting.
Adapting the home to tri-paw life
Through trial and error, you will find ways to help get them used to their new lifestyle.
In Winnie's case, she was already used to being a tri-paw as she hadn't been using her front right for some time. Some dogs may take just a week to adjust to walking with three legs, some can take up to a month. Try not to put a time limit on when you expect them to be fully recovered as it differs greatly for each dog. It's much like comparing babies and judging when they should take their first steps.
The operation will take its toll on your pet. And I suspect if they stayed over at the vet's the night before that they didn't get much sleep either. It may take a good few days before the anaesthetic fully wears off.
Make sure your home is as accommodating as possible. Every dog will react differently but here is what we felt was important for Winnie.
We provided extra padding for her bed and moved it to the living room where we spend most of our time. If you have to go to work, try to have a family member or someone they know come over to stay with them.
We avoided having too many people over at one time and kept sound levels to a minimum. It was clear she was not in the mood to entertain!
We invested in rugs to avoid her slipping and falling down. We also bought food and water bowls adjusted to her height to avoid any unnecessary strain on her remaining front leg from bending down.
A leg wrap or splint also comes in handy from time to time if the remaining legs take more strain than usual. This leg wrap is a good example.
Exercise and diet for tri-paws
Walkies and dinner time may have to change slightly. You might not be able to walk as far or as long with your dog as before. And, depending on their size, you might need to think about what they eat.
It's hard work for Winnie to support her upper body with just one leg. Being a chunky, chest-heavy Staffie, there's a lot of weight for that one leg to take. Her remaining leg grew stronger by the day but this now hulk-like leg isn't always capable of long walks in tricky terrain anymore.
Again, it's all down to trial and error. You might find your dog tires after a 10-minute walk, or that they can continue for hours. If they tire quickly, think about investing in a stroller that they can jump in when they become tired.
Walks are not complete though without a snazzy new harness specifically designed for tri-paw dogs. They can range from £10-£300. We tried three that ourselves and Winnie just couldn't get used to until we found a harness that was actually inexpensive and one of the more basic. Having a large surface area to cradle her heavy chest seems most comfortable for her. The handles allow the walker to help the walk up and down steps and stones by carrying the weight for them. This might take a bit of getting used to but eventually becomes a new way of walking for the dog and minimises strain on the remaining legs.
If you need to limit walks then you should do so if your vet agrees. Some dogs simply enjoy sniffing around in the garden for fun. To make it more interesting, try hiding healthy treats and new toys for them to find. You can do this in the house too.
Ask your vet what the ideal weight for your dog is and how many meals they should have per day. Stick to this advice and do not feel sorry for your pet and give them extra treats – especially not human treats. Any extra weight will take its toll so they need to be as light as possible. Treats might be a quick happy at the moment but can be detrimental for your tri-paw's health and life span.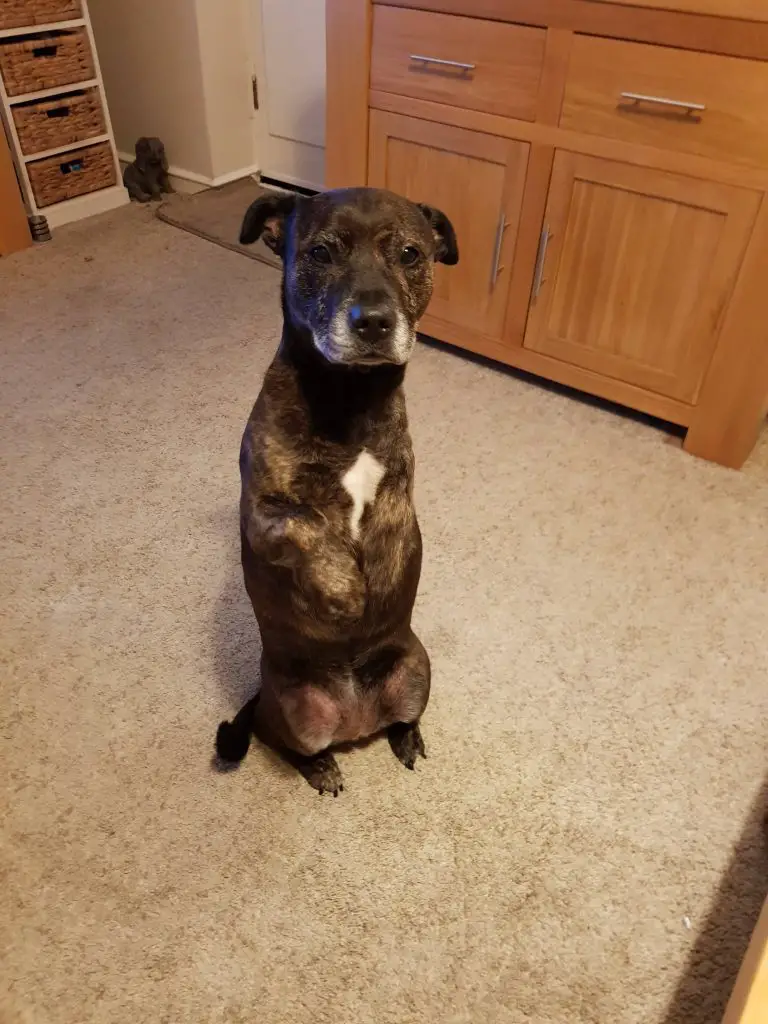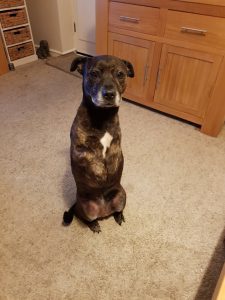 Your tri-paw
Remember, each dog is different. Be patient and remain calm. It was over two months before we saw Winnie's personality really shine through again. For others, it can be just 48 hours. It's like seeing them smile for the first time. From this moment, rest assured, they will become more confident and happy with each passing day.